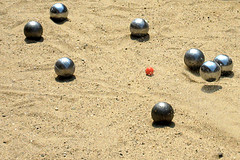 When I explained how we determined what feature to work on next, I mentioned that we were looking to add a stakeholders representative for the Ubuntu project. Well, it's now done. The Ubuntu Technical Board delegated Bryce Harrington to that position.
So if you are part of the Ubuntu community and need something from Launchpad, you can now talk to Bryce.
I'm really glad to have him on that position. Not only is he a respected member of the Ubuntu community, but he also did a 6 months rotation within the Launchpad team, so has understanding of how our project operates.
He'll now be in a position to escalate important bugs affecting the Ubuntu community, as well as present the community's view on what new features should be prioritized. It won't be an easy job, since the Ubuntu project is big and varied. The people who cares about bugs are often not the same that cares about translations nor the same that cares about package publishing or the Ubuntu distribution development toolchain. And the stakeholder representative job is to help prioritize these needs to make sure that the Launchpad team works on the most important work. Plus then he'll have to find common grounds with the other stakeholder representatives!
Thanks Bryce for stepping up to these responsibilities!
Photo by Wally Gobetz. Licence: CC BY-NC-ND 2.0.