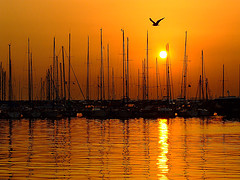 Jonathan Lange our Product Strategist announced that he was leaving Launchpad after four and a half year. The fact that he's only leaving next door to work on the Ubuntu Developer Programme from within the Platform team is only a small comfort.
Before becoming Launchpad Product Strategist, Jonathan was known for adding support for source package branches to Launchpad. He became Strategist at about the same time I took the interim leadership of Launchpad. It will interesting to see how I manage without him!
He was instrumental in most of the process changes that happened to the team in the last two years. We can thanks Jonathan for bringing us the LEP process which make sure that we focus on the right things before starting coding, the Stakeholders process to make sure that we are working on the right thing. He also brought some clarity on what Launchpad was all about! Recently, he has been working on clarifying the feature development process, so that we can deliver polished changes on a regular cadence to users. I'm probably forgetting also a lot of other changes which his constant quest for improvements suggested to us in one way or another.
Oh, and we can thank him for making sure that we didn't move on early from daily builds, improved bug subscriptions and other changes without the polish they have today. I (and I'm sure our users) thank you!
Whoever takes that role forward, will have big shoes to fill! If you are interested by the challenge, a job opening should be posted soon!
Thanks a lot Jonathan, it was a pleasure to work with you all these years! You'll be missed. Good luck with your new project, but I'm glad to think that the future of Ubuntu Application Development is in excellent hands!
Photo by Robin Robokow. Licence: CC BY-NC-SA 2.0.