Ever wanted to know what exactly is happening in Launchpad development, but found our list of in-progress bugs too daunting and detailed? Well, do we have a link and a screenshot for you.
Screenshot: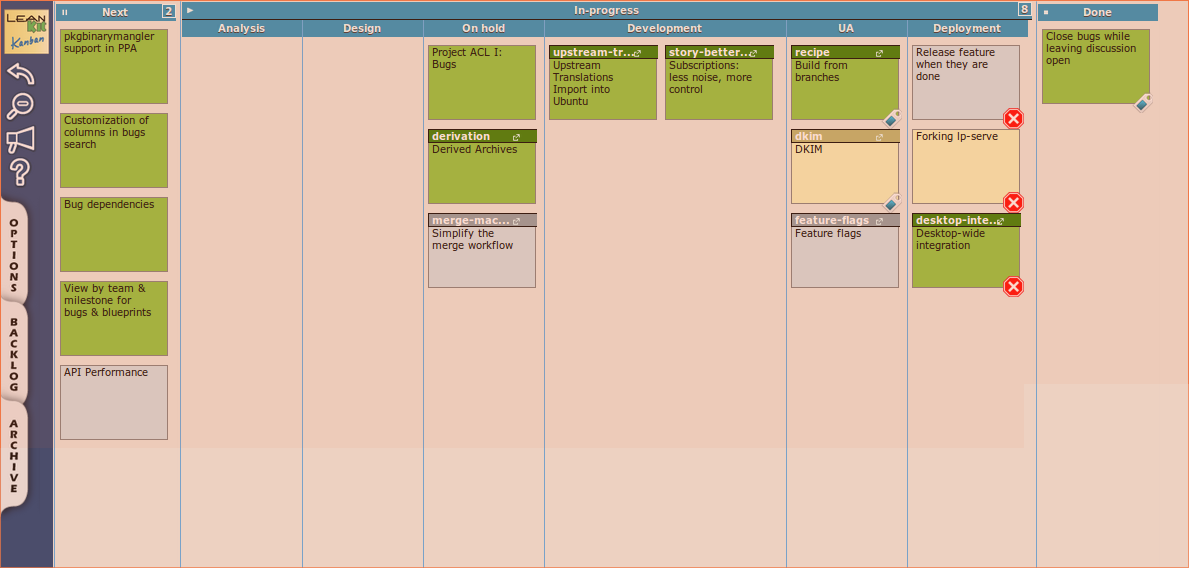 Link. (Log in: guest@launchpad.net; Password: launchpad).
Thanks to the nice folk at LeanKit Kanban, we've now got a guest account set up so that anyone can our kanban board. The board shows all of the high level features that we are working on (those are the green ones), the infrastructure projects we're doing (those are the blue ones) and all of the community-driven work that we know about (the yellow ones).
The further to the right a card is, the closer it is to being done. The cards in the Next column are the things we'll start to work on once we've got room on the board to start them. "UA" means we're fixing the final few bugs in a feature before we consider it to be done, and "Deployment" means that we need sysadmins to do something.
Our goal is to keep the amount of work-in-progress down to a small number, and to be able to move things from left to right as quickly as possible. We hope making the board available gives you a better insight into Launchpad development, and maybe even encourages you to join in the fun.
Update: We've fixed the log-in credentials, for real this time. Sorry for publishing the wrong ones previously, and previously before that.