Over the past couple of weeks we've been accepting entries to our Launchpad logo competition.
Rather than store up the entries until the deadline (31st March, by the way), I thought I'd share a couple of those we've had so far. Of course, you don't have to wait for me to pop up here to see what people are submitting. If you want to get an email whenever a new logo is put forward, click Subscribe on the submissions page.

I like the flow of Damián Vila's design, which maintains a green feel similar to the present Launchpad site design. The rocket flying off from the Launchpad logo-text puts me in mind of Launchpad as just that – a launching point for work on free software projects.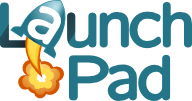 Donn Ingle says he "tried to capture the fun spirit of the overall Launchpad design". His is the first logo to move away from green and I think he does capture a sense of fun in his design. I'd love to see an animated version.
Do go see the other entries in the competition. Better still, fire up Inkscape and create your own!
This post doesn't imply any particular favourites, by the way 🙂