Welcome to the Twelve Days of Launchpad!
From now through to January 6th we'll look at a different Launchpad feature each day, concentrating on those that aren't so well known.
Let's start with announcements! Your project's Launchpad overview page is a great place to give other Launchpad users — and thanks to some Google juice, the rest of the world — an introduction to what your project is all about.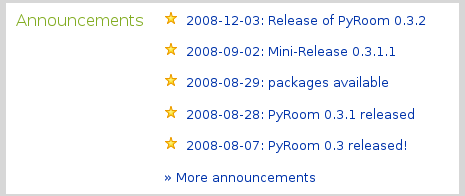 It also gives you an effortless way to keep your community up to date. Take a look at the Pyroom text editor's project page.
Click on any of the announcement titles and you'll see the full news item, with an optional link to more info. Even better, Launchpad gives your project an Atom feed of all your announcements. Visit your overview page and, if you're running Firefox, click the feed icon in the browser address bar.
To make an announcement — either for immediate publication or to go live at your chosen time — follow the Make announcement link at the bottom of the announcements section of your project's overview page.
Drinking from the firehose
There's an even a page and Atom feed where you can see the announcements from every project in Launchpad. What a great way to find out what's happening in Launchpad right at that moment!