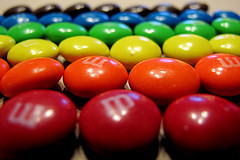 If you've ever wondered why a particular bug report about the Launchpad project is marked as Low, High or Critical, you should read our bug triage guidelines.
Okay, so, if you're not directly involved with triaging Launchpad bugs then that may not be the world's most compelling invitation.
So, here's the short version: we use only the Critical, High and Low importances. We give each a particular meaning:
Critical: Bugs that should be fixed before other bugs. Ideally, we'd have nothing here.
High: Bugs we think we can fix in the next six months.
Low: Everything else.
That last one can make it appear that we don't care about your bug but that's not the case. The reason we use Low is to avoid setting any unrealistic expectations about when someone in the Canonical Launchpad team will get to that bug. That's not to say we'd complain if someone else fixed that bug. Also, we're open to persuasion: tell us why we should increase the priority of a bug you care about.
There's more in our bug triage guidelines, including what we consider to be a Critical bug.
Photo by Mr. T in DC. Licence: CC BY ND 2.0