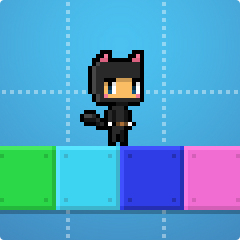 Nikki and the Robots is the first game from Berlin based games studio Joyride Labs. It's a retro-styled platformer with beautiful colours and an open source licence, with bugs tracked in Launchpad.
I asked Iwan & Sönke from Joyride Labs about the game.
Matthew: Nikki and the Robots is LGPL and Creative Commons licensed. What made you choose open source licences?
Iwan & Sönke: This one is easy! Our love of open source software and free art made us do it! Also we expect that being open will get us additional attention and love.
Our work and how we license it is an experiment too, so actually we 'hope' rather than expect. 🙂
Matthew: How are you planning to distribute the game once it's ready?
Iwan & Sönke: We are working on the first part of Nikki and the Robots and will start in-dev-sales (pre-sale) once it is ready.
Game, editor and user levels will be free as in freedom. A part-proprietary organic story mode with enhanced levels and additional in-game-art will be available for pay.
Matthew: Can you tell me a bit more about the technology behind the game and the decisions you made? I see, for example, you're using Haskell.
Iwan & Sönke: Haskell is just my (Sönke's) favourite language. I have the impression that I can do coding in Haskell much faster than in other languages and I produce less bugs. Besides Haskell we use Qt and OpenGL as the graphics backend and Chipmunk as the physics engine. By the way: we completely rely on free software for compilation on all platforms (so, no VisualStudio or XCode, just gcc, cmake, mingw32, etc.).
Matthew: How are you finding Launchpad as a bug tracker?
Iwan & Sönke: It's quite usable. Forum and wiki might be useful features to consider for the platform. (We use a free wiki system and will probably set up an own forum soon).
Matthew: Thanks to Iwan and Sönke. You can download an alpha of Nikki and the Robots from the Joyride Labs website.