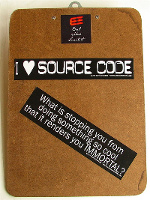 Photo by Windell Oskay. Licence: CC-BY
Rob asked on the launchpad-dev list whether people would mind seeing slightly inaccurate bug counts on some pages in Launchpad, if it meant the page would load faster.
So, if a project had 503 bugs its bug overview page might report that it has 500 bugs. However, for small numbers Launchpad would continue to report an accurate number, as the difference between three bugs and, say, no bugs is immense.
What do you think? Is a slightly inaccurate bug count a price worth paying for a faster page load? The survey closes 17.00 UTC Monday.
If you can't see the survey embedded in this post, follow this link.