As of recently, you have more control of what email Launchpad sends you about bugs.
Instead of bug subscriptions being all or nothing, you can now tell Launchpad exactly what bug-related events you want to hear about. And if you find you're getting too much, or too little, detail you can change your subscription at any time.
What's more, it's now easier to filter the bug mail that Launchpad sends you.
Subscribing to an individual bug
Let's take a look at a bug report about Gwibber. Over on the right-hand side is the Subscribe link as usual. Clicking on it, though, gives us three new options for when Launchpad should email you about this bug:
a change is made to this bug or a new comment is added
any change is made to this bug, other than a new comment being added
this bug is fixed or re-opened.

You get to choose how much detail you want about the life of this bug, from receiving an email about everything through to Launchpad notifying you only when the bug is fixed or subsequently re-opened.
Editing a subscription to an individual bug
You can change your mind about your bug subscription. Simply click the Edit subscription link that appears once you've subscribed.
You get the same options, along with an additional option of unsubscribing entirely.

Subscribing to a project
You've been able to subscribe to all the bugs in a particular project or distribution (and milestone, series, packages within those) for a few years now. However, for anything but the quietest of projects this could bring a new intensity to the phrase "drinking from the fire hose".
Now you can have sane subscriptions to these broader structures within Launchpad. Let's subscribe to bugs in OpenStack to see how it works.
Clicking Subscribe to bug mail on OpenStack's bug overview page gives allows you to:
subscribe yourself or one of your teams
name the subscription — this gets added to the emails that result
choose whether you want to hear when a bug is opened or closed, or if you want to go into more detail.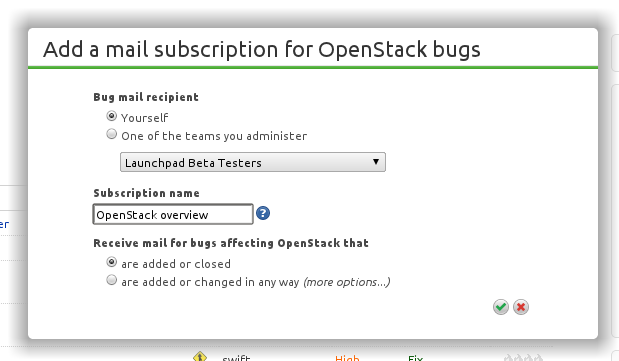 So, now you have a subscription called OpenStack overview that'll generate an email whenever a bug report is opened or closed in OpenStack.
Refining a project subscription
Let's say you're particularly interested in OpenStack documentation. No problem, you can keep your OpenStack overview subscription for everything else and add a more detailed subscription just for documentation bugs.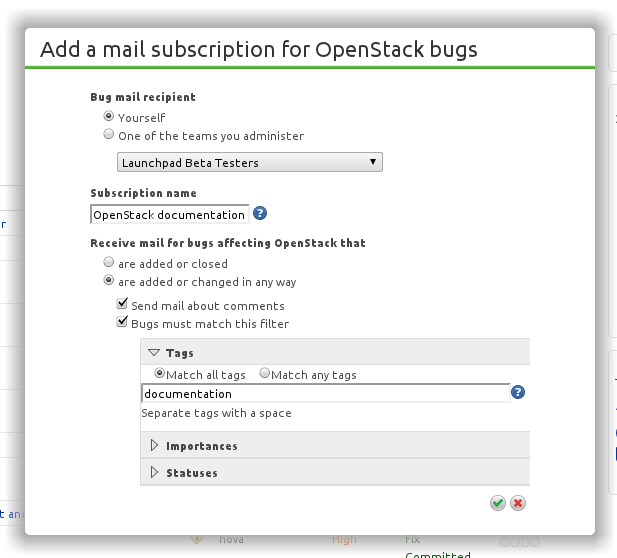 If that's not enough, you can also filter by importance and status.
Muting bugs
If a particular bug becomes too noisy, you can mute it. No matter how you're subscribed to that bug — even if you have several subscriptions that generate email about that particular report — once you've muted it, you won't hear about that bug again.

Of course, you can unmute it any time you like.
Unsubscribe in anger
At the bottom of every bug mail that Launchpad sends you'll now find a link to edit your subscriptions to that bug. So, no matter how how you're subscribed to the bug you'll find all those subscription listed on that page and have the option to edit each of them.
You can also get to that page by clicking Edit bug mail on the bug page itself.
And there's more
To help with filtering, Launchpad now adds a new header to bug emails:
X-Launchpad-Subscription
It quotes the name you gave the subscription when you created it. For Gmail users, all bug emails also feature the subscription name in the footer of the email body.
And don't forget that you can already opt-out of email about your own actions on bugs and Launchpad won't send email about quickly corrected mistakes.
I know I'm going to find bug mail easier to deal with now. Congratulations to the Yellow Squad on delivering this feature!