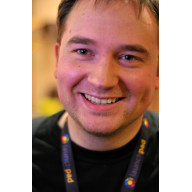 It's my pleasure to announce that as of today, Matthew Revell is the new
Launchpad Product Manager replacing Jonathan Lange.
We were seduced by his bold vision for Launchpad along with his data-centric approach that he intends to bring to the role. He also has an already extensive experience interacting with Launchpad developers and users. If you read this blog, you probably read something written by him! Or you might have interacted with him in one of the many user-research sessions he ran. The introduction of user-research helped us release better designed feature. Building on this experience, we hope that his leadership will bring Launchpad to the next level.
Matt will communicate more about his plans for Launchpad shortly. In the
mean time, let's give him our warmest congratulations!