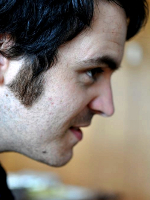 Earlier this year Huw Wilkins joined the Launchpad to look after the user interface. Here's a quick intro to who he is.
Matthew: What do you do on the Launchpad team?
Huw: I work on Launchpad's user interface. This means I do a bunch of design work and front-end development. I work with developers and help them to create features with good user interfaces.
I come up with ideas for how we can improve our current interfaces and generally do whatever I can to make Launchpad look better and nicer to use. I'm still relatively new to Launchpad but I hope you will start to see the fruit of this work soon.
Matthew: Can we see something that you've worked on?
Huw: Most of the visible work I've been doing has been fixing bugs in various parts of our UI. Hopefully you might have noticed there are less small issues and breakages. If you use private bugs then be on the lookout for a new (more obvious) notification style soon.
Matthew: Where do you work?
Huw: I work from home in Sydney, Australia.
Matthew: What can you see from your office window?
Huw: I look out over some rooftops and trees. Sometimes in the evenings I get beautiful sunsets.
Matthew: What did you do before working at Canonical?
Huw: Most recently I worked for a travel software company in charge of designing the UI for a massive web application. I have also worked as a freelancer and also spent a few years working in tiny fast-paced creative agencies.
Matthew: How did you get into free software?
Huw: A friend of mine handed me a CD with the first beta of Ubuntu (Warty) on it. I quickly discovered a bunch of amazing open source software and I've been running Ubuntu ever since.
Matthew: What's more important? Principle or pragmatism?
Huw: Principle. But that only works if you live in a vacuum. It would make my job a lot easier if Launchpad lived in a vacuum, but it doesn't, so I often have to be pragmatic.
Matthew: Do you/have you contribute(d) to any free software projects?
Huw: A number of years ago I was heavily involved in Ubuntu Studio. In recent years I open sourced a user feedback app for Django that started out as
part of a personal project.
Matthew: Tell us something really cool about Launchpad that not enough people know about.
Huw: Oh! Oh! You'll have to wait a bit longer but some of the guys have been working on a way to choose specific types of bug actions that you want
to get emailed about. A lot of people are about to have much happier inboxes.
Matthew: Is there anything in particular that you want to change in Launchpad?
Huw: I want Launchpad to be more personal. There are lots of things going on in Launchpad that do not concern me, and a lot that does. I would love
to make Launchpad do the work of finding that information instead of me.
Matthew: Thanks Huw!