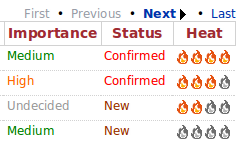 Ascertaining the importance of a bug can be one of the harder parts of bug triage, right?
It's no problem if the project's relatively small and you're intimately involved with each bug but if you're helping to triage for a larger project, it's not always that easy.
To help, we've introduced a new indicator of how hot a particular bug is. A bug's heat is a calculated estimate of its importance, using factors such as how many people are subscribed, whether it's a security issue, how many people have marked the bug as affecting them, and so on. Note that it is not a replacement for the bug's human-set importance but rather an aid to the people deciding what the importance should be.
You can see the full details of how bug heat is calculated on our wiki page.
A bug's heat is shown on the bug report page as four flame icons. The hotter the bug, the more of the icons are lit. You can also sort bug search results by bug heat.

There's a bug at the moment that means there's a fairly high barrier for a bug report to jump before any of its flames light up but take a look at the Ubuntu bug list, sorted by bug heat, and you'll see the new bug heat icons in action.
Let us know how you'd like to use bug heat.