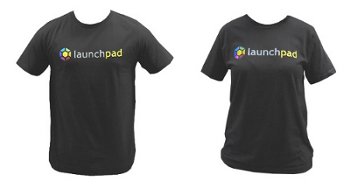 At our recent get-together in London, we in the Launchpad team discovered a sure-fire way to turn heads: t-shirts emblazoned with the stylish new Launchpad logo.
Naturally, we want to share this milestone in sartorial expression with everyone who loves Launchpad. So, you can now buy your own Launchpad t-shirt from the Canonical store (women's and men's versions available).
We're also giving one away in our competition. To enter, answer this question correctly:
What's the average (mean) number of people per team in Launchpad?
Send your answer and UK t-shirt size (S, M, L, XL or XXL for men, XS, S, M, L or XL for women) to feedback@launchpad.net, with the subject line "T-shirt competition", before Friday 12th December. The Launchpad team will select the winner from the correct answers.
The Launchpad team's decision is final and we'll need the winner's postal address to send the t-shirt.
Good luck 🙂
Update: As more people join and register projects in Launchpad, the correct answer may vary a little.