I like to use Tomboy for just about any time I need to make a note. Shopping lists, a GTD collection bucket, notes from a phone call: Tomboy's ideal.
Actually, up until recently I didn't use Tomboy for shopping lists all that often. Making the list was fine but getting it to the supermarket usually meant printing it out, or something else that wasn't quite as convenient as I'd like.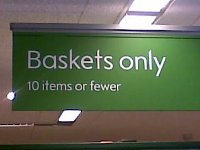 Then I installed Tomdroid.
Tomdroid does one thing and it does it well: it synchronises your Tomboy notes from elsewhere and lets you read them on your Android phone. You can import your notes from an SD card or, more usefully, synchronise with a TomboyWeb provider such as Ubuntu One.
Now I can tap out my shopping list on a real keyboard and carry it with me without a second thought. And, of course, all those other notes that make my life run smoothly are there with me wherever I am.
Tomdroid uses Launchpad for bug tracking, code hosting, blueprints and questions/answers.
You can download the latest version from the Android Market.
Photo by Tristram Biggs. Licence: CC BY-ND 2.0.