There's quite a bit of overlap between home beer brewing and hacking. Both usually involve experimentation, sharing and a love of what you're doing.
It's not surprising, then, that there's more than one open source project aimed at helping home brewers to create the beer they want. A few home brewing projects are hosted on Launchpad, including JolieBulle (that's French for "pretty bubble").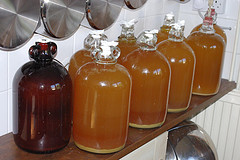 Pierre Tavares started the project last year to support his own brewing. The result is an application that helps at every stage of the process. When you're ready to get going, it helps formulate the recipe and allows for the sharing of recipes using the common BeerXML standard. It helps calculate what brewers call the beer's profile (its bitterness, colour, how much alcohol it has), includes an ingredients database and has tools that help during the brewing process itself.
I emailed Pierre to ask about the development of JolieBulle. Here's what he said:
From a technical point of view, JolieBulle is developped in pyQt and integrates well in both KDE and Gnome desktops.

I chose Launchpad mainly for the openness of the platform, and the great tools to manage code, bugs and blueprints. I'm pretty new to DVCSes but Bazaar seems fine, and I have no problem using it. I don't use the translation tool, as I prefer Qt Linguist.
JolieBulle isn't yet packaged for any distros and Pierre hopes to attract contributors who can help with that.
Photo by Sizbut. Licence CC BY 2.0.