Monday, June 18th, 2012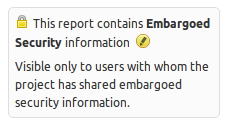 All users can now see the information type section that replaces the privacy and security section shown on bug and branch pages. This change allows users to clearly state the kind of information a bug or branch contains. Launchpad will soon permit project maintainers to share information types instead of managing individual bug and branch subscriptions. Project maintainers can see a link on their project's front page to the  "Sharing" page. Sharing lists all the users and teams their project shares some private bugs and branches with. This list might be surprising. Launchpad Beta testers will soon be able share and unshare kinds of information to simplify management of whom the project discloses private information to.
See Reimaging the nature of privacy in Launchpad for more details.