Tuesday, May 8th, 2012
Launchpad beta testers will now see the descriptions of bug status and importance when making updates to the bug page. Launchpad pickers can now show the descriptions of the options you can choose.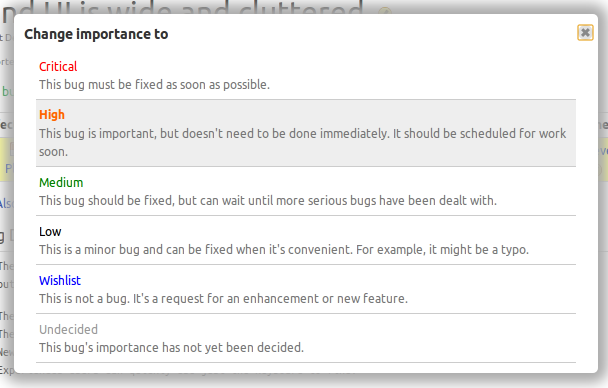 Launchpad's rules for defining a list of options you can choose have always required descriptions, but the only places you could see them were in some forms where they were listed as radio buttons. Bug status and importance where never shown as radio buttons, so their description were only know to people who read Launchpad's source code. Users need to see the descriptions so that there is a common understanding of terms that allows us to collaborate.  The original bug importance descriptions were written in 2006 and only made sense for Ubuntu bugs. We revised the descriptions for the improved picker.
There has been a lot of confusion and disagreement about the meaning of bug statuses. Since users could not see the descriptions, we posted the definition on help.launchpad.net. Separating the status description from the status title did not end the confusion. We revised the descriptions for the improved picker, but I think we need to make more changes before showing this to everyone. The picker  appears to rely on colour to separate the choice title from description. Not all choices will have a special colour, and in the case of bug status there are two choices that appear to be the same grey as the description text: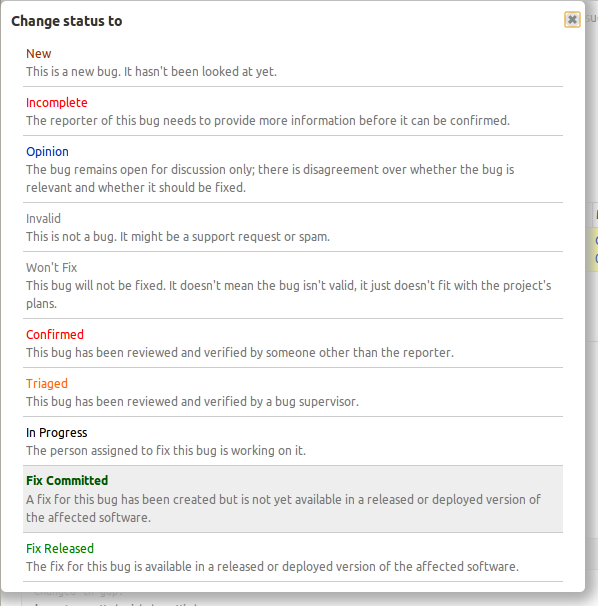 The picker enhancements were made for the disclosure feature. We are changing the presentation of bug and branch privacy to work with the forthcoming project sharing enhancements. Early testing revealed that users need to know who will be permitted to see the private information when the bug is changed. This issue was similar to the long standing problem with bug status and importance. We decided to create a new picker that solved the old problem, that we could then reuse to solve the new problem.